Are you contemplating which schooling system is better for your child, between homeschooling (or private school) and public schooling?
This blog post will open your eyes to see which system is the best for your kids.
So, what are the differences between Homeschooling and Public schooling in Malaysia?
1. The Learning Institution
Homeschool
In Malaysia, we have so many homeschooling centres across the country. These centres could be in a big house, such as a bungalow or a separate building, built for the sole purpose of educating children.
Homeschools in Malaysia cater for about 40 – 100 students or less, making it convenient for each student to get more personal attention.
In this homeschooling system, every student learns at their own pace, since everybody doesn't have the same mental capacity of understanding. These centres often follow both national and international curricula such as the IGCSE and Cambridge primary education.
Homeschools encourage physical education for the students. PE classes are usually held at a nearby park or football field.
Public School
Public schools in Malaysia are usually in classrooms and are usually attended by 30 – 45 students per class.
In the public schools, due to the number of students in a class, students get less attention, unlike the private home school centres, where special attention is given to any child who doesn't understand what is being taught in class.
The curriculum is predetermined by the government and must be strictly followed by the teachers and taught to every student, not minding if the student is weak in those subjects.
Because the classrooms are usually congested, the environment can be hot, thereby preventing proper circulation of air, which is unhealthy for a child.
Although PE activities are encouraged, the activities are generalized. It doesn't matter if a child is not interested in a particular sporting activity, he must participate in that activity.
2. Enrollment Age and Years Spent in School
Homeschool
The number of years students spend in primary and secondary schools in Malaysia is between 9 and 11 years, depending on the situation.
Children who have attained the age of 6 years old can start their homeschooling journey.
What this means is that their education journey begins at a very early age and it finishes early too; finishing faster than their peers.
At age 16, a child who was homeschooled is already set to enter into any tertiary institution of his or her choice.
Public School
In public schools, children begin their formal education journey at the age of 7, which means they finish high school at the age of 17, assuming they passed all their subjects.
For instance, in a case where a student fails the compulsory Bahasa Malaysia (Malay Language) in their final exams, they will be required to stay back for an extra year in high school.
During this extra year, they will be in a special class where they will be taught to improve in the national language. This can be a huge delay in the student's educational advancement.
3. Medium Of Instruction
Homeschool
In private homeschools, the English language is the medium of instruction; though students are also encouraged to speak the national language (Bahasa Malaysia).
It is good for students to speak the national language, but English is a widely used language and homeschools in Malaysia use the English language as a medium of instruction, and the subject itself is taught in homeschools, making the students proficient in English Language.
With this, a student can confidently interact with people in English speaking countries, especially, if he or she chooses to further their education abroad.
Public Schools
The Malay language is the medium of instruction in most public schools. It is good for the students to interact in Bahasa Malaysia; but students need to be able to speak the worldwide language (English language).
Unfortunately, not all public schools have the capacity to ensure that students leave school being fluent in English.
This might be due to the fact that some teachers don't interact with students with the language, or the subject is not taught or taken seriously.
4. Student-Teacher Ratio
Homeschool
In homeschools, the number of students per class is usually small, making it easy for teachers to attend to the learning needs of each individual student.
In private homeschools, more attention and support is given to the students on a one-on-one basis. Some private schools even have assistant teachers helping out the headteacher.
Students are free to ask as many questions as they can until they understand a topic or subject. This is an advantage because, in public schools, teachers might not have enough time to explain one thing to a particular student.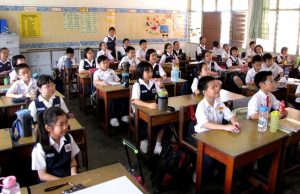 Public Schools
The student-teacher ratio in public schools are usually high; making the class congested. This makes the attention span of the students low, because the students are easily distracted.
In a Nutshell
It's no denying that all parents want the best for their children especially when it comes to education. One of the reasons homeschooling is becoming more and more popular in Malaysia is because of the belief that not all students are the same.
In fact, students learn in different pace and have different attention span. Due to low student-teacher ratio, students studying in homeschools in Malaysia will get more personal attention and the privilege to study at their own pace.